Back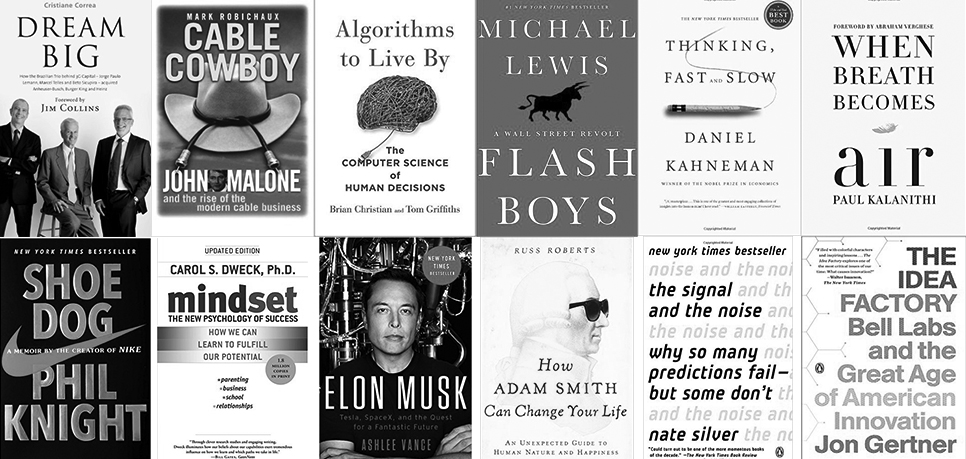 Mawer's book recommendations for 2017
---
Every year, our team pulls together a list of books that influenced our thinking in the previous year. Not all of the recommendations are new books or relate directly to investing, but each one provided the reader with valuable insight. We hope they may provide you with the same.
Dream Big: How the Brazilian trio behind 3G Capital—Jorge Paulo Lemann, Marcel Telles and Beto Sicupira—acquired Anheuser-Busch, Burger King and Heinz
Author: Cristiane Correa
Recommended by: Peter Lampert, Portfolio Manager
Dream Big profiles three businessmen who began their careers running a small Brazilian investment bank and today own some of the largest companies in the world. These entrepreneurs achieved audacious goals through their unique, performance-driven culture. They also created AB Inbev, which is held in the Mawer International Equity Fund.
---
Shoe Dog: A Memoir by the Creator of Nike
Author: Phil Knight
Recommended by: Karan Phadke, Equity Analyst
Shoe Dog was my favorite book of the year. This biography chronicles Nike founder, Phil Knight's, adventures building the now famous global sports empire. Each chapter represents a different year in Knight's career, and his refreshing candour (he acknowledges the large role luck has played in his career along with hard work) makes the book reads more like a novel than a biography.
---
Cable Cowboy: John Malone and the Rise of the Modern Cable Business
Author: Mark Robichaux
Recommended by: Amit Shah and Samir Taghiyev, Equity Analysts
Cable Cowboy describes the trajectory of the telecom industry from its modest roots in radio to its dominance today in television as the main source of entertainment. John Malone—a current stakeholder in several telecom related companies—demonstrates how an unhealthy paranoia around tax savings resulted in significant wealth creation.
---
Mindset: The New Psychology of Success
Author: Carol Dweck
Recommended by: David Ragan, Director/Portfolio Manager
Mindset illustrates how our attitudes towards success and failure can either spark or hinder personal growth. It outlines the value of a growth mindset—an openness to learning in new or difficult areas, trying new activities, and to growing in general. The book explains how a fixed mindset, on the other hand, leads to stagnation and the fear of trying anything outside your comfort zone. This book has influenced my approach to life, and I'm encouraging my young son to develop a growth mindset of his own.
---
Algorithms to Live By
Author: Brian Christian and Tom Griffiths
Recommended by: Justin Anderson, Equity Analyst
Algorithms to Live By applies common computer algorithms to high and low stakes decisions. Unlike many books that are often too vague or general to be useful, this one provides practical ways in which you can use algorithms to improve your decision making.
---
Elon Musk: Tesla, SpaceX, and the Quest for a Fantastic Future
Author: Ashlee Vance
Recommended by: Siying Li, Equity Analyst
Elon Musk profiles a unique visionary and entrepreneur who continues to shape our collective future with new technology and new ways of doing things. Beyond his philosophical influence on Silicon Valley, I was fascinated to learn how he successfully built two companies at scale in two industries that were previously thought to have extremely high barriers of entry: Aerospace and Auto Manufacturing.
---
Flash Boys: A Wall Street Revolt
Author: Michael Lewis
Recommended by: Michael Georges, Equity Trader
Flash Boys: A Wall Street Revolt explores how the front running of orders by high frequency traders (HFT) was discovered, investigated and addressed by a group of curious and dedicated traders. Led by a Canadian trader, the group goes on to make a difference in the marketplace and helped to level the playing field for participants. I learned how HFT firms operate and the technology that exists to counter them.
---
How Adam Smith Can Change your Life: An Unexpected Guide to Human Nature and Happiness
Author: Russ Roberts
Recommended by: John Wilson, Equity Analyst
How Adam Smith Can Change your Life provides an accessible introduction to many of the key excerpts from the renowned economist's book on moral philosophy, "The Theory of Moral Sentiments." Roberts introduces some terrific frameworks originally postulated by Smith. One of my favourite examples is how he frames dealing with difficult people as a beneficial activity: observe what it is about them that rubs you the wrong the way, thereby enabling you to avoid this behaviour yourself.
---
Thinking, Fast and Slow
Author: Daniel Kahneman
Recommended by: Jeff Wilson, Trader
In Thinking, Fast and Slow, Kahneman explains that we have two systems of thinking. System 1 is fast, intuitive, and emotional, while system 2 is slower, deliberate, and introduces logic. This book examines how and when we use both systems in our daily lives, and it illustrates the biases that can occur when relying solely on either one. It's a mind opening read that challenged me in my thinking.
---
The Idea Factory: Bell Labs and the Great Age of American Innovation
Author: Jon Gertner
Recommended by: Paul Moroz, Deputy Chief Investment Officer
The Idea Factory offers a compelling history on the development of computing with a practical lesson on technological innovation.
---
The Signal and the Noise: Why Many Predictions Fail—But Some Don't
Author: Nate Silver
Recommended by: Colin Wong, Portfolio Manager, U.S. Equity
The Signal and the Noise says it all in the title really. From the founder and editor of FiveThirtyEight.com, Nate Silver explores the world of prediction, examining how we can distinguish a true signal from a universe of noisy data. Most predictions fail, often to the detriment of society, because most of us have an inadequate understanding of probability and uncertainty.
---
When Breath Becomes Air
Author: Paul Kalanithi
Recommended by: Kara Lilly, Investment Strategist
When Breath Becomes Air is a neurosurgeon's autobiography and his reflection on the meaning of life as he approaches the end of his life with stage four cancer. It is a moving account of one man's thoughts on what it means to live and die.
---
Misbehaving: The Making of Behavioral Economics
Author: Richard H. Thaler
Recommended by: Jorg Hampel, Equity Analyst
Misbehaving offers a good introduction and history into the field of behavioral economics.
---
This blog and its contents are for informational purposes only. Information relating to investment approaches or individual investments should not be construed as advice or endorsement. Any views expressed in this blog were prepared based upon the information available at the time and are subject to change. All information is subject to possible correction. In no event shall Mawer Investment Management Ltd. be liable for any damages arising out of, or in any way connected with, the use or inability to use this blog appropriately.